Modules of Limestone Background Size: 120x64cm
Easy return of products within

14

days from the date of purchase without giving reasons
NATURAL LOOKING 

3D

 LIMESTONE BACKGROUND MODULES WITH CAVES 
Incredible backgrounds for marine or fresh water aquariums.
In this set you get 4

 background modules

 
The size of the modules is approx: 120x64cm 
It can fit into a tank with dimensions from:
117x64cm up to 120x68cm
Modular design allows for effortless installation without silicone as each module overlaps to hold together and stand up. Holes throughout allow fish to swim through as they would in the wild and gives a perfect place to hide filter components or hoses and keep the natural look of your aquarium intact.
Perfect surface to mount live corals.
PLEASE NOTE: Item which you will receive may not be identical to the main picture. Our backgrounds are hand made so each is unique! Slight variations in color , with some lighter/ darker may occur.
Main features of limestone background:
- easy to install, just slide in, modules overlap each other
- no silicone required
- background sinks
- DON'T need to drain your tank before installation
- hide your filter piper, air tube, heater behind the background
- durable material
- easy to clean with sponge or brush
- ultraviolet resistance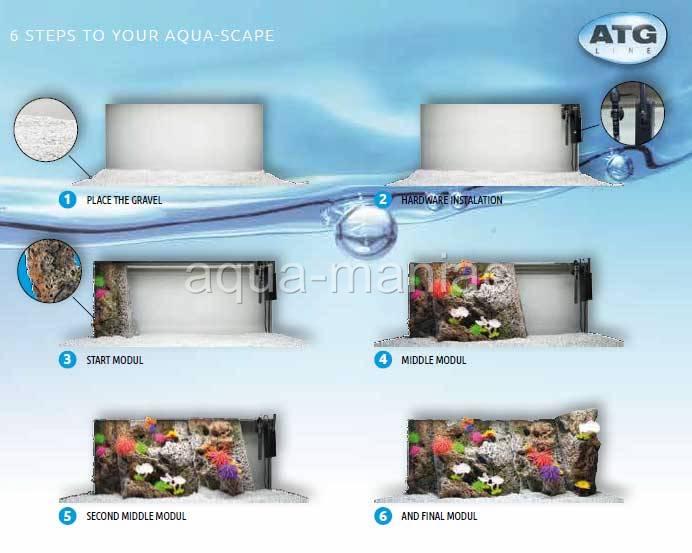 Guide how many modules for tank size:
50x30cm you will receive 3 modules
60x30cm you will receive 4 modules
80x40cm you will receive 3 modules
100x40cm you will receive 4 modules
100x50cm you will receive 4 modules
100x60cm you will receive 4 modules
120x50cm you will receive 4 modules
120x60cm you will receive 4 modules
150x50cm you will receive 5 modules
150x60cm you will receive 5 modules
150x50cm you will receive 6 modules
150x60cm you will receive 6 modules
Ask a question about this product